Today will be a very special day here in Holland.
Ever since 1949 "koninginnedag" (Queensday) is celebrated on April 30th. to my opinion the best national holiday we celebrate in the Netherlands. April 30th was the birthday of our former Queen, Juliana.
After her daughter Beatrix took over the crown in 1980, she decided to keep this tradion.
But... today will be the last time... Because by 10:00 today, our queen, Beatrix will resign and our crownprince, Willem Alexander wil become King of the Netherlands.
As from 2014 we therefore will be celebrating "Koningsdag" (Kingsday) on April 27th, which is Willem Alexander's birthday.
Vandaag is een heel speciale dag hier in Nederland.
Sinds 1949 vieren we Koninginnedag op 30 April. Ik vind dit de leukste feestdag van het jaar. we vieren op deze dag de verjaardag van onze vorige koningin, Juliana.
Na de troonswisseling in 1980 zette Beatrix deze traditie voort.
Maar... vandaag voor het laatst... Omdat rond 10:00 vandaag, Beatrix het stokje gaat overdragen aan onze kroonprins Willem Alexander.
Daarom gaan we vanaf volgend jaar 'koningsdag' vieren op 27 april, de verjaardag van Willem Alexander.
My mum got me this set by 'BLOND Amsterdam' isn't it cute?
Mams kocht dit setje van 'BLOND Amsterdam'voor mij, is het niet schattig?
...And this is what Beatrix, Willem Alexander and Maxima look like in real
..nog even de echte Beatrix, Willem Alexander en Maxima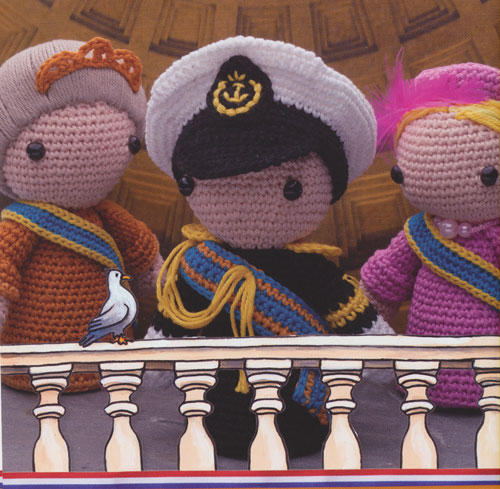 ...in crochet !! from the book "Ik hou van Holland en haken"by Christel Krukkert
..gehaakt !! uit het boek "Ik hou van Holland en haken"door Christel Krukkert